Generating "social, environmental
and financial returns"
Impact investments are investments made into companies, organizations and funds with the intention to generate social and environmental impact alongside a financial return.
— Global Impact Investing Network
Impact investments can be made across asset classes in both emerging and developed markets, and target a range of returns from below market to market rate. Global Impact Platform lists impact-driven strategies targeting competitive risk-adjusted financial returns.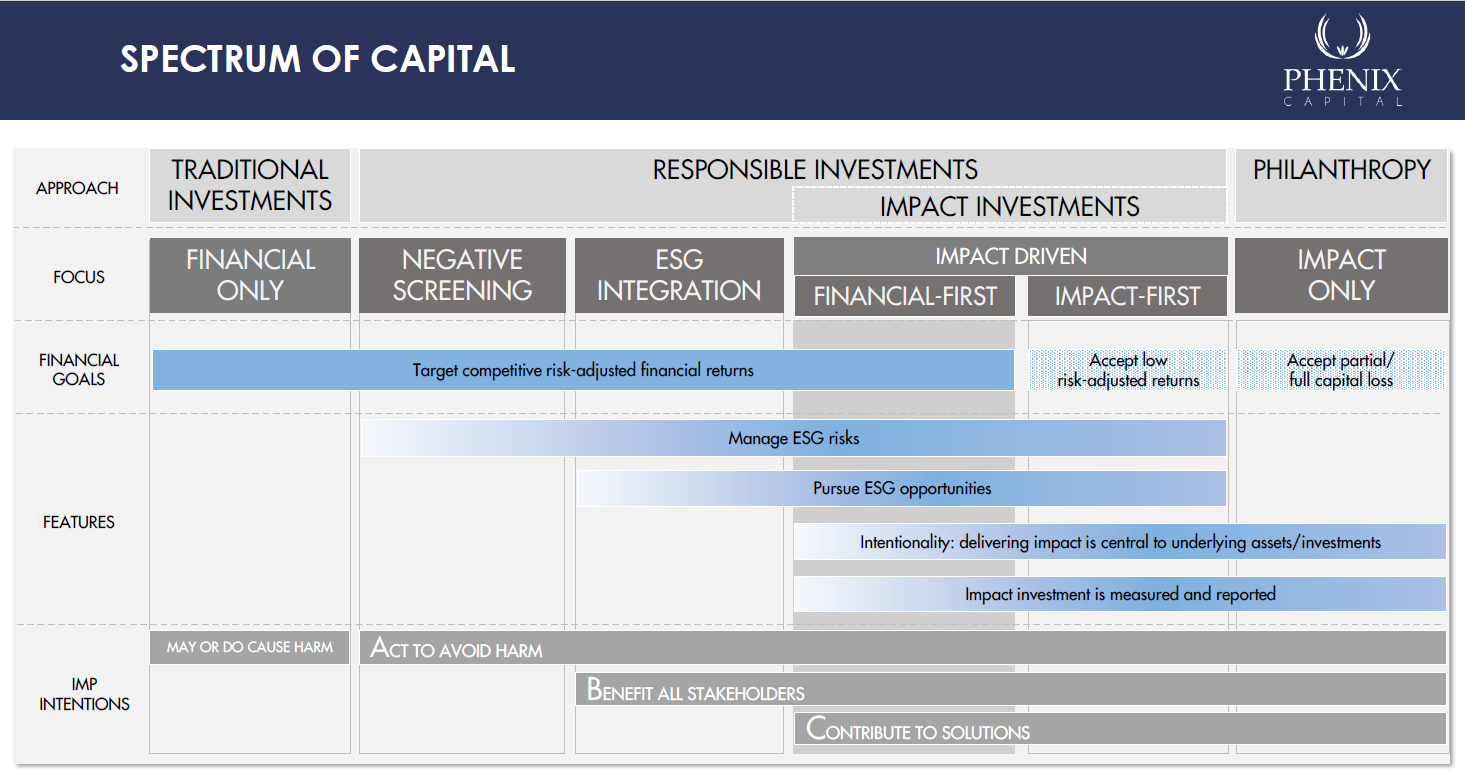 The Impact Investing Spectrum. Source: The Rise of Impact - UK National Advisory Board on Impact investing (2017)
SUSTAINABLE DEVELOPMENT INVESTMENTS: INVESTMENTS INTO SDG
Coined by APG and PGGM, 'Sustainable Development Investments' bridge the gap between the SDGs and tangible investment opportunities.
Sustainable Development Investments are investments in solutions that contribute to the Sustainable Development Goals. These investments meet the financial risk and return requirements of institutional investors and support the generation of positive social and/or environmental impact through their products and services, or at times through acknowledged transformative leadership.
Global Impact Platform contributes to the impact and sustainable development ecosystem by identifying the top SDGs targeted by the funds.

OUR EXPANDING UNIVERSE
Global Impact Platform comprises a universe of sizeable impact funds with a verified impact proposition. Our team combines dedicated impact specialists with seasoned investment professionals who have years of investment experience at large asset owners or have worked for investment advisory firms.
Created for institutional investors
| | |
| --- | --- |
| | Fund size |
| | Organization and investment team |
| | Investment strategy and process |
| | Track record and performance |
Verified impact proposition
| | |
| --- | --- |
| | Responsible investment policies |
| | Intention to create impact/ thematic focus |
| | Impact embedded into investment process |